---
I decided to radically simplify my life and divide my living expenses by 10!
I just returned my house in Bedford, my apartment in New York and sold my McLaren. I gave 75% of my non-financial material possessions to charity and most of the rest to my friends and family.
Two years ago I wrote how I had temporarily divided my monthly expenditures by four after being kicked out of my crazy Park Avenue penthouse and my house in Sands Point (The Big Downgrade). The Bedford house actually proved more expensive to operate than my Sands Point house (an indoor heated pool consumes lots of propane – go figure 🙂 and as such my monthly expenses were only sustainably divided by two.
This decrease was mostly driven by my nomadic lifestyle. As I was traveling more than 6 months per year out of the US for OLX, especially to Argentina, Brazil and India, I opted not to get an apartment in the city and to stay in hotels in New York City. As I spent my weekends in Bedford, I ended up averaging only 6 days per month in the city. Given that you pay only for the nights you stay in the hotels, it led to a massive decrease of my monthly expenses given the outrageous apartment I had before.
While it meant foregoing hosting my traditional salons, white parties, charity events and poker games, I figured I would join other people's events for a change. In the process, I got to try out a wide variety of hotels in the city and ended with non-obvious favorites. I tried:
Fashion 26
Morgans
Eventi
Trump Soho
The Setai
Crosby Street Hotel
Mercer Hotel
The Greenwich
The Standard
The Pearl
W Time Square
W Union Square
Hotel on Rivington
The Surrey
Most hotels that people love proved disappointing. The Greenwich had by far the best spa and I kept running into celebrities like Ryan Gosling there, but the room was underwhelming and noisy (mostly with noise from the corridor). In fact, most of the hotels had disappointing rooms. The Crosby Street Hotel is amazing, but none of the rooms below $1,000 / night have a bathtub and I am partial to baths 🙂
Ultimately, The Mercer Hotel became my go to hotel. I love the location and convenience: 2 stops from the OLX office on the B or D. The rooms are big and have large bathtubs. The service is second to none. I particularly love the small touches: remembering who you are every time, giving you complimentary champagne and not requiring you to sign anything for room service or anything you ask them to get you.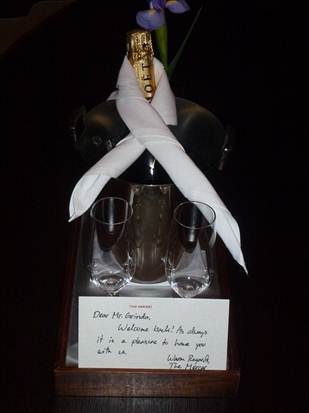 I tried to pre-pay for 100 room nights in a few hotels to try to get a better deal and potentially be guaranteed the same room every night, but New York hotels are so full that none accepted my offer (even when I upped my offer to 200 nights I was turned down!). I started using the Mercer as my go to place, changing rooms on every stay.
I chose the Trump Soho as my backup hotel when the Mercer was full. They had just opened and it was reasonably common to get fantastic rooms for $300 per night (always below $500), on top of that I was often upgraded. The Trump Soho is slightly less well located and felt a bit less homey, but was amazing nonetheless. It's modern and tasteful as opposed to the kitschy Trump Hotel on Columbus Circle.
I actually liked "living" at the Mercer, but after 20 months living out of my tiny carry-on suitcase started to get old.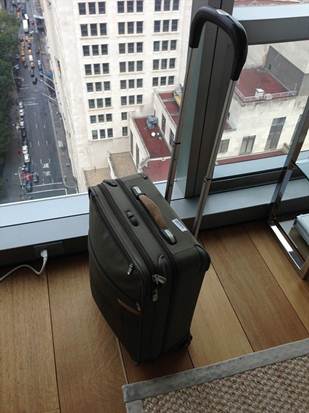 It also led to awkward dating conversations:
Date: "Hmmmmm… Every time I see you we are in a different hotel room. Your wife and kids must be at home!"
Me: "No, no, believe me, I actually live in this hotel, I just have to change room every week because they don't book it permanently for me!"
Earlier this year I decided the time had come to get an apartment in the city. I love the Union Square and Madison Square Park area and had been pining to live at One Madison Square Park ever since I had seen the building come up in the last 2000s. I love contemporary architecture and the building fell right in my sweet spot. Even though the building was far from being complete, a few units were available for rent and I moved in on March 1 of this year into a wonderful fully furnished 1 bedroom apartment.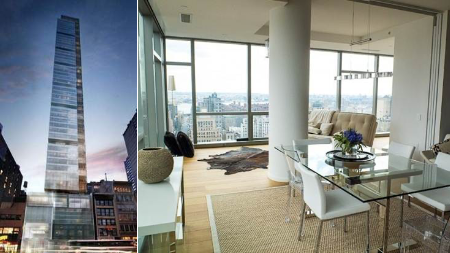 While not as lavish as my previous apartment, it served its purpose well and allowed me to host intimate dinners with my best friends and the occasional poker game or Settlers of Catan night. Ultimately, those events are more in line with my personality than the over the top parties I was hosting at my last apartment.
Simultaneously, in a moment of weakness I bought a McLaren MP4-12C.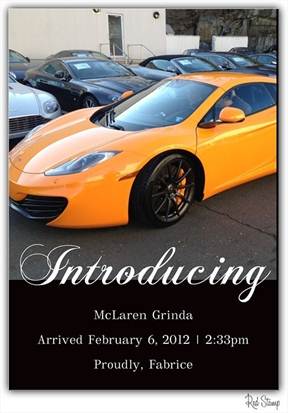 I always loved fast cars and speed. I had raced go karts, Formula 3s, dune buggies in the Baja and many other cars. I longed to rekindle the experience of being at limit and if I went any faster I would lose control. Upon test driving the McLaren, I realized it was the car for me. Not only did I fit in it, which is exceptional as I am too tall for most sports cars, but I felt connected to it and the road in a completely unprecedented way. It just makes you feel so safe and in control, I knew I could drive this car faster than any car I had ever driven.
Naturally I chose it in the McLaren official color: McLaren Orange. While the color might seem ostentatious and a reflection of my natural immodest personality, it is actually the conservative choice – akin to having a red Ferrari or silver Mercedes.
With those changes in place, my burn rate had returned to what it had been 2 years ago, before I wrote The Big Downgrade. There is no particular burn rate I was aiming for, but it's important to spend money for the right reasons. I rented the Bedford house to indulge in my teenage-like anti-intellectual pursuits: Frisbee with the doggies, paintball, RC car racing, padel, tennis, go kart racing, video games, ping pong, foosball, air hockey and movie watching. It was meant to be a haven of relaxation, an island of respite from the urban jungle of New York. Yet, as many of my friends shockingly proved to have weekend lives that did not include me, the weekly Saturday parties no longer resembled what I had envisioned them to be and became more like "normal" parties.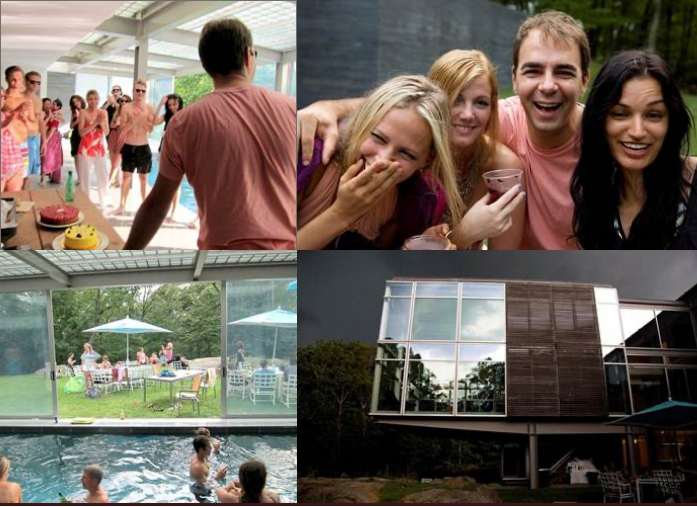 Those parties were enjoyable and only represented a small percentage of my life, but they illustrated how far I had strayed from my original mission. It was made all the more obvious by the music video that was shot at my place, using all my toys, which simultaneously embraced this way of life and parodied it.
The time had come to change. As I often do in pivotal moments in my life, on the eve of my birthday, I wrote myself a long introspective email laying out my professional dreams and desires relative to where I stood in life. It's an approach that has served me well and that I wholeheartedly recommend to others (The Power of Introspection and Detached Analysis).
It dawned on me that deep down I really wanted to embark on a new adventure. Very few successful entrepreneurs have the courage to start over. We may no longer be risking our personal livelihood, but by starting again we are putting our hard earned reputation on the line. Worse, we abandon very powerful platforms. Once you have a site with 150 million unique visitors per month and a fully-fledged team which can do almost anything, starting without either is daunting.
The same applies to material comfort. We become accustomed to the trappings of our lives and have a hard time imagining going on with our lives without the things we have accumulated. While comfortable, those very possessions can anchor us down and limit our thinking and options.
The reality is that ultimately beyond our health, wits, friendships and family there is very little we need. In my case, the only material possessions I really appreciate are my notebook computer, Kindle, tennis racquet, padel racquet, kite surf, ski boots, Xbox and huge plasma TV; but the reality is that if push came to shove, I could do without most of that and lead a very happy and fulfilled life.
I came to the ineluctable conclusion: I had to shed my material possessions and OLX. I recently announced my departure from OLX (Why I am leaving OLX).
I left Bedford on December 17. I packed up everything I had and donated most of it to charity, distributing the rest to my friends and family.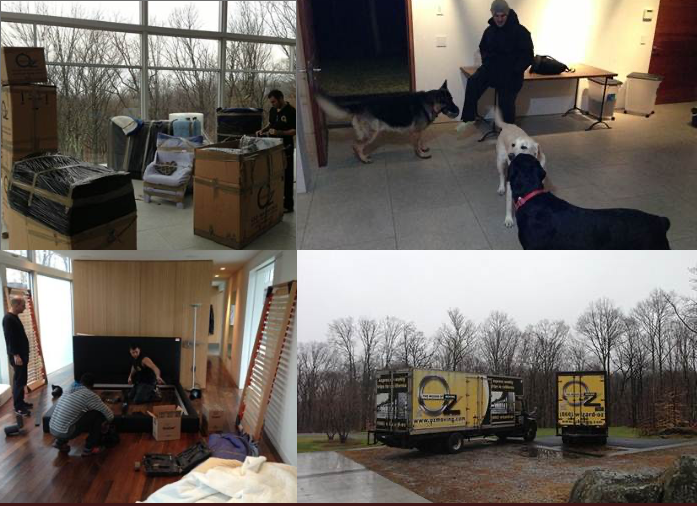 I am also returning my apartment in the city and selling my McLaren. In more ways than one, it is the end of an era.
I know with every fiber of my body that it is the right move, but at the same time I feel a combination of fear, trepidation, excitement, relief, happiness and joy all mixed into one! Even though I am working on a new project and am considering building a venture fund with Jose, I am still embarking on a journey without an explicit destination.
I renewed my commitment to invest more in my relationships with my family and friends. I recently came back from one of my best friend's wedding in Sri Lanka. I am currently spending the holidays with my family in Miami. I invited most of my best friends and family to join me for a vacation for the last two weeks of January in Anguilla. I will also make an explicit effort to go visit those who cannot make it in person.
Even with the cost of the house I will rent in Cabarete to host Harvard and Bagheera, my monthly expenses will be a tenth of what they were before. I will probably eventually rent an apartment or start staying in hotels in London, Paris or New York. Even then it's hard to imagine my monthly expenses being more than a fifth of what they most recently were. Ultimately, my desire for intellectual fulfillment will undoubtedly take me back to New York on a more permanent basis in a year or two.
In the meantime, unburdened by the trappings of success and traditional societal constraints, I shall be venturing into the unknown. I look forward to seeing you on the other side!
Newsletter